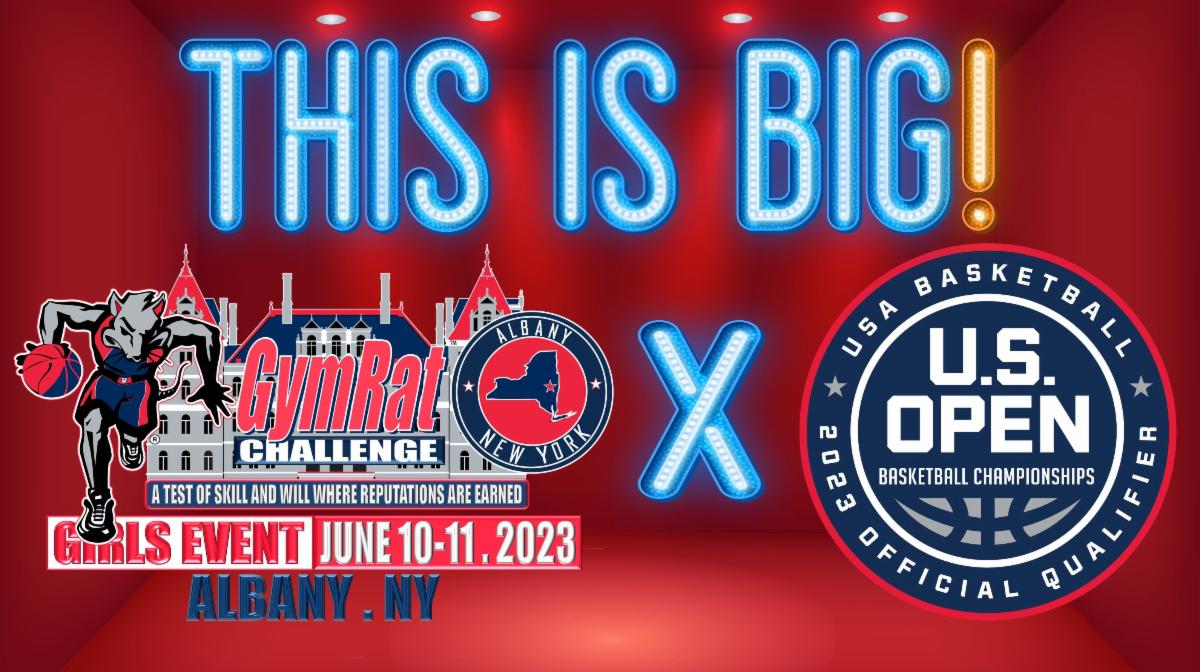 The maximum capacity field for the 2023 GIRLS GymRat CHALLENGE is now set and loaded with top teams from Maryland to Montreal converging on New York State's Capital Region to compete in one of the most iconic events in grassroots basketball history. The GymRat CHALLENGE is where yesterday, today, and tomorrow's NCAA and WNBA stars have come to EARN their reputations since 1998.
 At the 2023 GIRLS GymRat CHALLENGE, 396 games involving teams from twenty-one U.S. states and Canadian provinces will be played over 36 hours at four outstanding venues involving over 3,000 athletes in six Age Divisions with over 140 college coaches, scouting services, and publications in attendance to observe and evaluate as we crown GymRat CHALLENGE Champions in each Age Division and prepare the comprehensive GymRat REPORT that's available to every college coach in the nation..
The scheduling process for the GymRat CHALLENGE is extremely complex. Because the GymRat CHALLENGE is a Pool Play into a Championship Round event with a tremendous amount of national exposure on the line, great care is taken in order to create parity within our Pool Play structure. Competitive integrity takes highest priority in creating a GymRat schedule followed by geographic diversity within each pool, and scheduling special requests. Each GymRat pool is designed to contain a #1, #2, #3, and #4 seed. While not an exact science, much like the creation of NCAA Tournament brackets, this process is designed to give the best teams the highest likelihood of advancing to Sunday afternoon's Championship Round, while at the same time giving all teams the chance to win games during Pool Play.
SCHEDULE PACKETS for each Age Division are available in the hyperlinks below. Each SCHEDULE PACKET contains an Alphabetical Listing of teams with their Pool Assignments and full Game Schedules for the representative Age Divisions, and Championship Round Brackets.
2023 GymRat CHALLENGE 11th Grade Schedule Packet Revised June 9
2023 GymRat CHALLENGE 10th Grade Schedule Packet Revised June 9
2023 GymRat CHALLENGE 9th Grade Schedule Packet Revised June 9
2023 GymRat CHALLENGE 8th Grade Schedule Packet
2023 GymRat CHALLENGE 13U Schedule Packet
2023 GymRat CHALLENGE 12U Schedule Packet
BECAUSE OF THE COMPLEXITY AND DOMINO EFFECT OF ANY CHANGES TO THE SCHEDULE, ONCE THE SCHEDULE IS COMPLETED, IT CANNOT BE CHANGED. PLEASE DO NOT CALL OR E-MAIL THE TOURNAMENT OFFICE ASKING FOR VENUE OR GAME TIME CHANGES. THE TIME FOR MAKING SUCH REQUESTS IS WELL PASSED. WE PROVIDE A VERY STRAIGHT-FORWARD PROCESS FOR SUBMITTING SCHEDULING REQUESTS. THAT PROCESS WAS COMMUNICATED MULTIPLE TIMES TO EVERY TEAM LEADER AND HEAD COACH VIA E-MAIL AND TEXT MESSAGE. HISTORICALLY, WE HAVE MET NEARLY 99% OF ALL REASONABLE REQUESTS RECEIVED THROUGH THE GymRat SYSTEM. WE SIMPLY CANNOT MAKE ANY CHANGES OR TAKE ADDITIONAL REQUESTS AT THIS LATE DATE. ONCE THE SCHEDULE IS SET, HAS BEEN PUBLISHED, AND MADE AVAILABLE TO MEDIA, COLLEGE COACHES, AND SPONSORS. IT WILL NOT BE CHANGED.
THANK YOU IN ADVANCE FOR YOUR RESPECTFUL ADHERENCE TO THIS POLICY.
WRISTBANDS

will be issued to EVERYONE wishing to enter a GymRat CHALLENGE competition venue and MUST be securely fastened PRIOR to entry. Wristbands will be issued to all ROSTERED players and a MAXIMUM of TWO (2) coaches per team. Coaches MUST wear their band on their wrist. Players can choose to wear their band on their wrist or ankle. Wristbands

CANNOT

be worn on jerseys or bags. Spectators MUST wear their band on their wrist. Wristbands are NOT transferrable….i.e., they CANNOT be transferred from one person to another. Wristbands CANNOT be worn on bags or purses. All bands MUST be securely fastened PRIOR to gaining entry to the facility….i.e., bands CANNOT be carried into the facility. These are all important safety precautions. Anyone attempting to enter a competition venue without properly displaying a wristbands will be removed from the facility and remanded to local authorities. Thank you in advance for your cooperation.

ZERO TOLERANCE

: THE STATED MISSION OF THE GymRat CHALLENGE IS TO ALLOW YOUNG BASKETBALL ATHLETES THE OPPORTUNITY TO COMPETE AT THE HIGHEST LEVEL AND TO SHOWCASE THEIR SKILLS IN PURSUIT OF THE OPPORTUNITY TO PLAY COLLEGIATELY AND BEYOND. THE OVERWHELMING SUCCESS RATE OF THE GymRat BASKETBALL IN THIS MISSION IS WELL-DOCUMENTED. ANYONE CAUSING A DISRUPTION TO THE ATHLETES' OPPORTUNITIES TO SHOWCASE THEIR SKILLS AND/OR BEHAVING IN A MANNER THAT IS INAPPROPRIATE WILL BE REMOVED & BANNED FROM ALL EVENT VENUES. THIS ABSOLUTELY INCLUDES ANY SPECTATOR WHO ENTERS THE PLAYING SURFACE AT ANY POINT OTHER THAN BEING WAIVED ON TO THE COURT BY MEDICAL PERSONNEL TO ADDRESS AN INJURED PLAYER.

RESULTS & SCORE TRACKING

: All game results and Chanpionship Round rankings will be posted to the GymRat Application Site at https://gymratchallenge.com/gymrat/ . Once the event begins, two buttons will appear under the event logo. The POOL PLAY button will provide scores of all games. The CHAMPIONSHIP ROUND button will provide a the rankings of all teams pertaining to advancement into the Championship Round. Those rankings are NOT complete until ALL Pool Play games have been concluded and reported into the system. For more information on how teams advance to the Championship Round, visit http://gymratchallenge.com/championship-round/

FORFEIT FEE

: Teams are REQUIRED to meet their three game guarantee. In accordance with the published rules for the GymRat CHALLENGE that were acknowledged and accepted by EVERY team at the time of registration, any team forfeiting a game, including withdrawing from the event after the schedule is posted, wll be charged a $525 forfeit fee PER forfeited game. The GymRat CHALLENGE is one of the highest exposure, highest visibility events in the nation. Forfeits are UNACCEPTABLE at an event of this magnitude. Teams forfeiting games don't just damage themselves, but they also deprive their opponents the opporunity to compete in front of over 180 college coaches.

SCOREBOOK KEEPERS

: The team listed in the left column of the schedule is designated as the HOME team. The home team is responsible for providing someone to keep the official scorebook for the game. This could be a coach or a parent, but ALL home teams must provide a book keeper.
All teams requiring hotel accommodations are REQUIRED to book through our hotel logistics partner, Halpern Travel. Teams that booked hotels outside of the Halpern system will be removed from the schedule and replaced with teams from our extensive Waiting List. Because adherence to this policy is absolutely necessary in order keep hotel rates reasonable for GymRat CHALLENGE teams year over year, there will be NO EXCEPTIONS to this policy.
For more information on our hotel policy and booking procedures or to get your team into IMMEDIATE compliance, please visit http://gymratchallenge.com/girls-event/team-hotel-requirements/
For more information on GAME SITES and LOCATIONS visit http://gymratchallenge.com/girls-event/game-sites-directions/