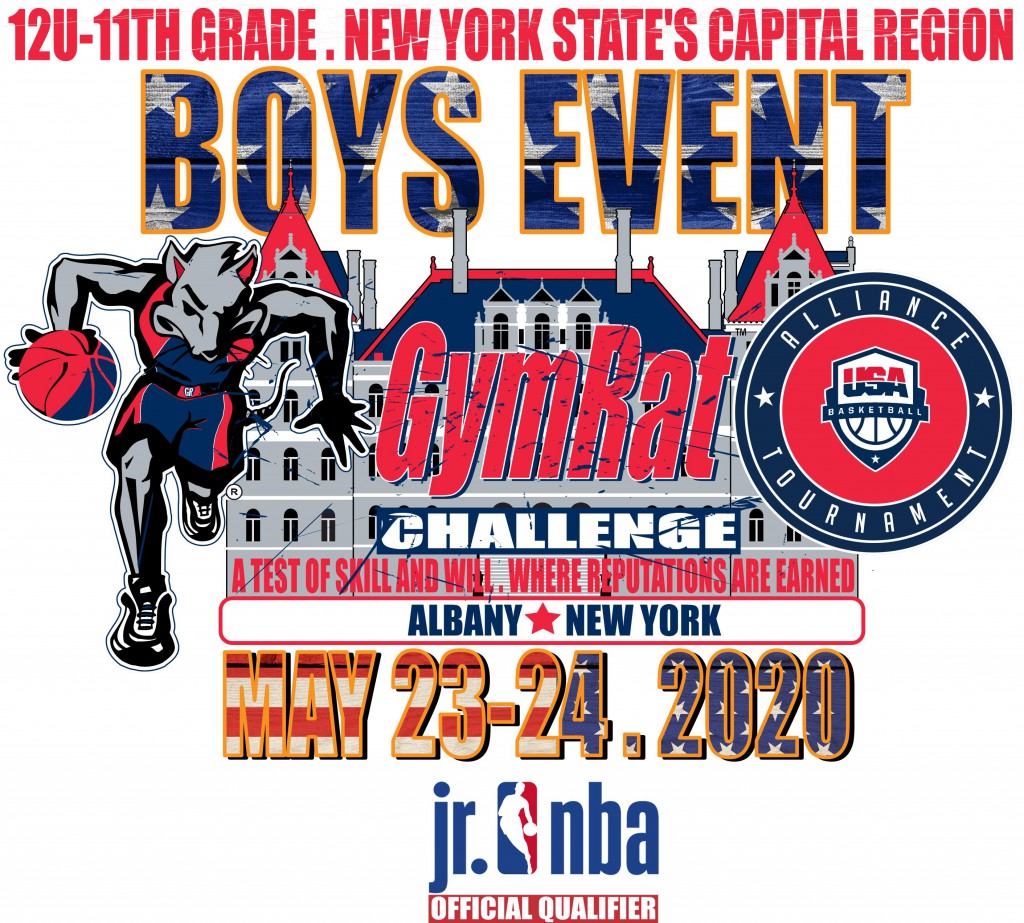 As the single largest event of its kind in the eastern United States, and the third largest event of its kind on the entire North American continent, reputations are EARNED at the GymRat CHALLENGE. The GymRat CHALLENGE has become a rite of passage for today and tomorrow's NCAA and NBA stars. From two-time NBA MVP Steph Curry to 2018 NBA First Round Draft Picks Mo Bamba and Kevin Huerter to 2019 Naismith National High School Player of the Year Isaiah Stewart, for over two decades, the greatest players on the planet have come to the GymRat CHALLENGE to prove themselves against top competition. With unparalleled coverage from college coaches, scouting services, and basketball publications, more players are recruited out of the GymRat CHALLENGE than any other event in the nation.

THREE game guarantee with additional games for Championship Round qualifiers
Potential for MAXIMUM of 6 games over the event weekend
POOL PLAY CHAMPIONSHIP FORMAT
POOL PLAY concludes at 11:15 AM on Sunday
Pool Champions& potential Wildcard teams advance to the CHAMPIONSHIP ROUND beginning at 1:35 PM on Sunday
CHAMPIONSHIP ROUND format includes
Bracket play based on POOL PLAY performance and resulting CHAMPIONSHIP ROUND seed
Single elimination with MAXIMUM of three games in CHAMPIONSHIP ROUND play
Champions awarded in each CHAMPIONSHIP ROUND bracket
This three-game maximum CHAMPIONSHIP ROUND format reduces fatigue and results in higher quality performance in all brackets of the CHAMPIONSHIP ROUND
This format allows all CHAMPIONSHIP ROUND qualifiers to play a minimum of one and a maximum of three games in this highly competitive round.
This format preserves the legendary trademark Championship –style of the GymRat CHALLENGE, allows for national recognition for winners in all brackets, and allows for early conclusion times for all teams.
Certified referees for all games
GymRat CHALLENGE team of scouts and evaluators on hand throughout the weekend for talent evaluation & selection of
All-GymRat CHALLENGE team and MVPs in each age division.
Athletic Trainers on site
BOYS GymRat CHALLENGE Team Registration Fee
EARLY REGISTRATION PERIOD (NOV 1-DEC 31)….Open only to RETURNING teams & teams from 2019 Waiting List: : $395 (11th Grade through 8th Grade); $295 (7th & 6th Grades)
NATIONAL REGISTRATION PERIOD (BEGINS JAN 1): $495 (11th Grade through 8th Grade); $395 (7th & 6th Grades)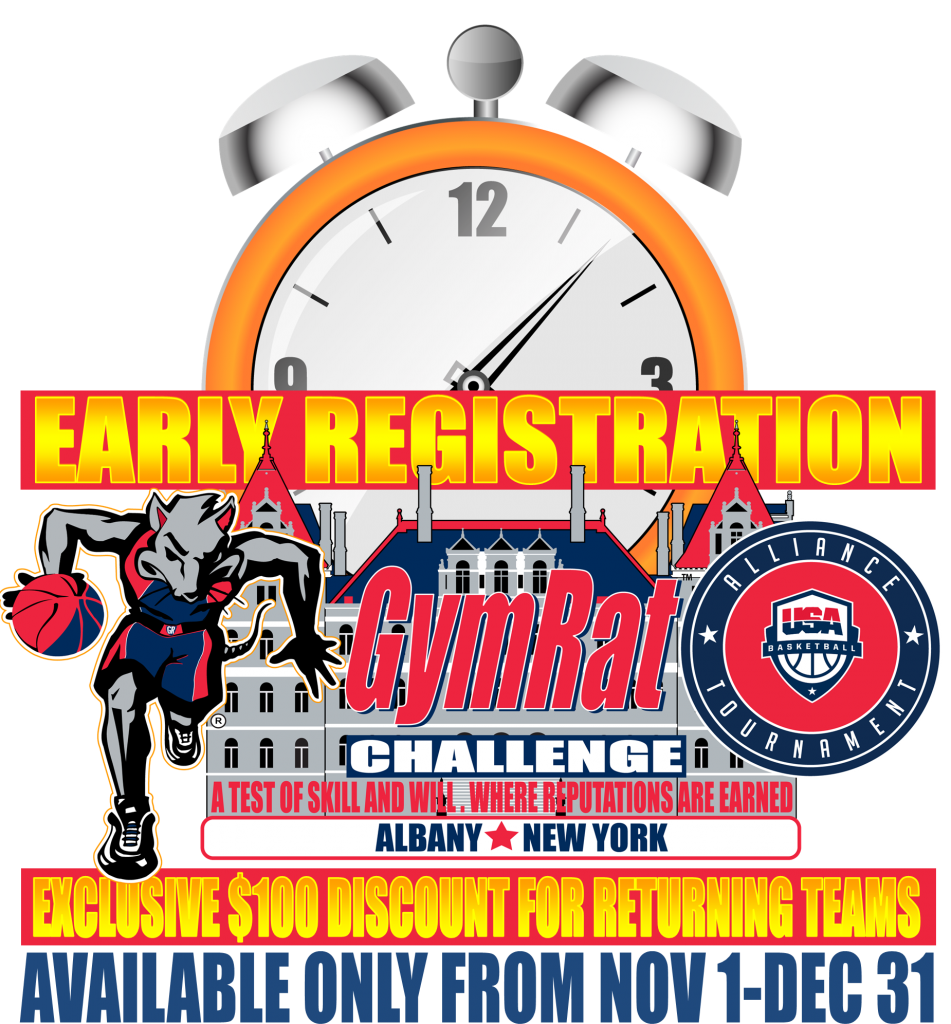 The exclusive annual GymRat CHALLENGE EARLY REGISTRATION period begins on November 1st and runs through December 31st. EARLY REG is open only to RETURNING teams and teams that were on the 2019 Waiting List. Because the GymRat CHALLENGE is reaching its maximum capacity earlier and earlier each year and our Waiting Lists are growing in size year over year, the EARLY REG period is designed to give RETURNING TEAMS an advanced opportunity to lock-in their spots and take advantage of EARLY REGISTRATION DISCOUNTS of $100 per team.
During the annual EARLY registration period, RETURNING teams and teams that were placed on the 2019 WAITING LIST can register at the DISCOUNTED rates listed below….A $100 DISCOUNT from National Registration rates:

From NOV 1 to DEC 31, GymRat CHALLENGE discounted EARLY registration fees will be:

$395 for teams in the 8th through 11th Grade divisions
$295 for teams in the 13U & 12U divisions.

Teams that know that they want to return to the 2020 GymRat CHALLENGE are strongly encouraged to take advantage of the exclusive EARLY REG period to lock in their spots before NATIONAL registration opens on January 1st. Once NATIONAL registration begins on January 1st: throughout the United States & Canada, registration rates will be

$495 for teams in the 8th through 11th Grade divisions
$395 for teams in the 12U & 13U divisions
Multi-team discounts available. Call 1-888-7-GYMRAT (1-888-749-6728) for details.